Neptun: BMEEPRAG111
Obligatory subject: Faculty of Architecture, Faculty of Civil Engineering - General Course Program
ATTENTION!
Due to switching to distance learning the timetable changes! Please, go to the department's Moodle page.

https://edu.epitesz.bme.hu/course/index.php?categoryid=22
course director
Dr. Gábor Nemes

teacher
Szabolcs Portschy
course objectives
The course provides an insight to fundamental building structures and their multifold roles in different contexts. Students study specific building structures from historical, technological, aesthetic and cultural/sociological perspectives by collecting and analyzing relevant examples in buildings in Budapest. They summerize the acquired knowledge in a creative model building exercise at the end of the semester.
schedule AY 2019/2020 fall semester
10.09 General orientation - Course schedule and recquirements
17.09 Project 1-3 - Introductory lecture - Fundamental Architectonic Structures - Research assignment
24.09 Project 1-3 - Consultation
01.10 Project 1-3 - Student Presentation
08.10 Project 1-3 - Student Presentation
15.10 Project 1-3 - Student Presentation
22.10 Midterm studio week - No classes are held
29.10 Project 1-3 - Student Presentation
05.11 Project 1-3 - Student Presentation
12.11 TDK Student Scientific Conference - No classes are held
19.11 Project 4. Structure - Model building exercise
26.11 Project 4. Structure - Photography workshop
03.12 Project 4. Structure - Final consultation & Submission
10.12 Studio week - No classes are held
project description
project 1-3

Explore the built heritage of Budapest

Investigate and analyse the basic building structures from individual aspects through the eye of the camera

- Vertical structural envelope (Walls, columns, etc.)
- Horizontal structural envelope (Slabs, ceilings, domes, beams, etc.)
- Structural perforations (Windows, doors, openings, etc.)
Create an 8-10 slide pdf bundle collection / photo study of each building structure based on one of the following concepts (select a different concept for each structure type):
- Contrast / Tension - Patterns / Textures - Unique details
- Transparency / Reflection - Light & Shadow - Cultural / Political context
- Aging / Urban decay - Structural rhythm
- Street art / Guerilla art - Unusual Constellations
- Evolution of styles - Colors / Color harmonies
Evaluation will be based on the relevance of the photos to the chosen theme, the originality and creativity of the approach, the consistency of the theme throughout the slides, and the compositional and technical quality of the slides.
project 4

Use the below template to cut out the elements from a 100 mm by 1000 mm by 1 mm balsa wood sheet.

Construct an architectonic structure using all 15 modules so that your structure features walls, ceilings and openings

Apply linear additions to your structure from a 50 cm long 2 mm by 2 mm wood stick (divided by a desired number of parts)

Take photos of your model with experimental lighting

Prepare a digital poster from your photos, and upload it to the cloud folder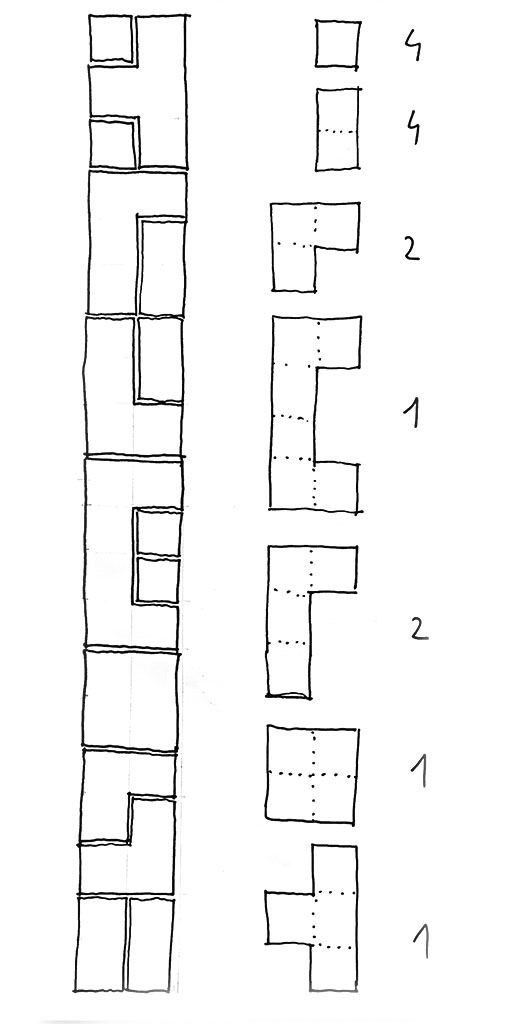 Evaluation will be based on the structural stability, spatial creativity, compositional harmony of the model and the quality of the craftsmanship.


project submission - requirements and deadlines
please upload your projects to the following folder: click here
use the following file name structure (pdf, or powerpoint files):
surname_firstname_project1.pdf
surname_firstname_project2.pdf
surname_firstname_project3.pdf
surname_firstname_project4.pdf
project 1-3 Digital presentation - Exact date to be assigned individually
project 4 Creative structure model exercise - Submission deadline: 13th December (only the photo poster shall be uploaded)
Late submission deadline for all projects: 20th December (only corrected/modified versions of the originally submitted works will be accepted at thos deadline)

Please note that only projects meeting the required format and content and uploaded to the designated folders by the specific deadlines will be deemed as properly submitted. (Projects sent by email, or any alternative ways, will NOT be accepted.)No projects submitted after the late submission deadline will be accepted. Any missing project means the automatic failure of the course. Class attendance is compulsory in accordance with the Codes of Studies and Exams of BME.